Check out these awesome bookcases: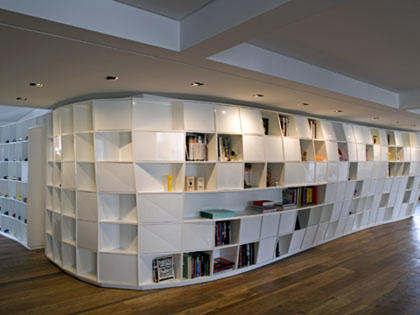 Billy Collins, my poetry idol and unwitting mentor, spoke once in a poem of his, 'Books', about building bookshelves while in college.
This struck me as a very spiritual thing for a writer to do, and I found myself stumped as to why I had not paused to consider The Bookshelf more often. In fact, I don't think I've ever heard any other writer speak lovingly of bookshelves, when they are in fact tremendously important to our line of work.
I proposed then, in a poem, taking up bookshelf-making as an exercise in meditation, patience, and love of your craft.
In an effort to include more of my own work on this site and debate my own worth against Paolini, here is that poem, free-styled in modern poetry. And if you're not a big poetry fan (I can't stand any formats or classic work; it's modern for me or not at all, and not experimental modern, just... honest) then consider it colorful prose with hyperbole:
Bookshelves
My advice to you, young writer
is this:
(As if I could say anything
not already coded into the sequence of your DNA.
But perhaps the instructions there are pleated in your milk tongue,
as familiar and distant as the brainwave patterns of childhood.
While you speak the bland, foreign language of mediocrity now,
let me translate what I have discovered of the wending script
into words whose scientific meanings you will understand,
and allude to the musical impressions
you once breathed and swam in,
swishing your embryonic tail
through the fluid of your deepest nature)
to build bookshelves–
rooms and hallways of bookshelves.
Prepare the cradles of your children;
the cabinets and displays of your colleagues;
the frames around which books shall live and die.
Take steps, like a midwife of catalysts,
to usher life from non-worlds into this.
Hammer out rectangles and shells
to clothe and house your creations.
Meditate on your existence as you do this,
and accept a chance of death before the souls of your words
stop speaking.